While Earth Day falls on 22 April this year, many companies and people are celebrating it for whole of April to further promote sustainability. If you're wondering how you can be part of this movement or just to be more environmentally conscious, here are some ways that you can take part in Earth Month!
Eats
Deliveroo has partnered with several eateries such as Swensen's, Three Buns, PizzaExpress and Good Food People by SaladStop! to bring your variety of plant-based delights made with Impossible™ or Beyond 'meats'.
In celebration of Earth Month, Impossible Foods has launched a campaign to encourage consumers in Singapore to calculate the impact of their food choices and do their part to turn back the clock on climate change. For the entire month of April, consumers can look forward to an exciting line-up of activities, incredible giveaways as well as special menu creations at close to 100 outlets across Singapore.
One of the special creations this year is the 'Heal the Earth' Impossible™ Meatball from RUBATO Italian Kitchen & Bar. Specially created by head chef Marcus Wu, this #instaworthy dish is made with the award-winning plant-based Impossible™ Beef, seasoned with fresh Mediterranean herbs and filled with handmade burrata in the shape and likeness of our planet. To find out more about chef Marcus's inspiration behind the creation of the dish, watch the video below.
Other exclusive menu items include Le Big Mock from Three Buns, Swensen's Bagus Burger, Impossible™ BBQ Onion & Rosemary Pizza from PS.Café, Impossible™ Meat Pong Tau Hu from Straits Chinese, Impossible™ Bua Kuluak 'Meat'-balls from Chili Padi Nonya Restaurant and many more. For people who prefer ordering in, Deliveroo is also offering $1 delivery for all participating restaurants and a bonus limited edition swag with every order while stocks last.
Lime Restaurant at PARKROYAL COLLECTION Pickering has introduced a new plant-based menu that features 10 dishes of innovative Asian dishes that do not compromise on flavour, creativity or ingredients. The latest menu includes dishes such as Japanese Gyoza, Meatless Meat and Vegetables in Tomato Sauce Pizza and Miso Meatless Meat Bolognaise with Vegan Egg that uses JUST Egg Folded – a plant-based egg substitute.
Lime Restaurant
3 Upper Pickering Street
PARKROYAL COLLECTION Pickering
Singapore 058289
Website: parkroyalhotels.com/lime
Clean Green
Besides food, we can also green up our home cleaning regime and reduce our use of plastic bottles! One such solution is Swiss brand aquama® that is sustainable and COVID-19 approved for environmentally-conscious homes and businesses. The cleaning solution is biodegradable and utilises only water, salt and electricity. Through a hydrolysis process, aquama® electrifies water and salt to create powerful antibacterial and antiviral disinfectant solutions that offer an all-in-one sustainable alternative to traditional chemical cleaners.
The first aquama® bottle can be purchased online, on the brand's app or physically at The Green Collective in Funan Mall for S$6.99 and you can use their fully automated machines to refill. The first refill is complimentary and subsequent refills are at S$2.99 per 600ml. Alternatively, consumers may want to purchase the Freedom S® portable device (S$209) from aquama®'s online store so that they can create an unlimited supply of disinfectant with only water and salt.
Plant a tree with every beer drunk
Homegrown Lion Brewery is one of the first beer brands in the country taking steps towards becoming carbon negative through its tree planting partnership with Green Steps Group, which replants Borneo's endangered forests. Borneo is a UNESCO World Heritage Site recognised for its biodiversity, critically endangered wildlife and indigenous people.
For every beer keg sold, a tree will be planted, making each pint sold at venue partners (e.g. bars and restaurants) carbon negative. Home drinkers like us can go to Lion Brewery's website to sponsor a tree for S$4. Each tree will be geo-tagged and monitored by Green Steps Group's proprietary "proof of planting" technology, providing governance and measurement of the CO2 output of each tree.
For those who like numbers, this means that for every 100 trees planted, Lion Brewery Co. will offset 2,200kgCO2e/year – which is less than the carbon cost of 100 kegs. The brewery aims to plant at least 2,000 trees by the end of 2021.
Lion Brewery Co has 3 flagship beers on draught (The Straits Pale Ale, Island Lager and New England Session IPA) and 3 seasonal beers (currently) available at select locations, on their e-commerce platform, and at supermarkets Cold Storage and FairPrice Finest.
Upcycling workshop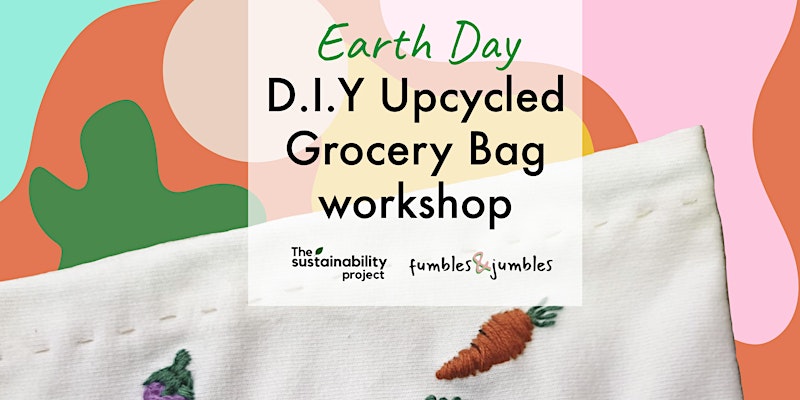 If you want an activity for the children, this DIY Upcycling workshop by Fumbles & Jumbles might be right up your alley! Not only will your little ones learn about how to give new life to old items, they will also learn basic sewing skills. Moreover, 10% of your ticket price will be donated to The Sustainability Project (TSP) for their tree planting campaign and you will also receive a $2 discount off any purchase of laundry related products from TSP.
Donate to a food bank
You can give back to the community by donating your surplus food with those in need at Food Bank Singapore boxes located at participating Malls of Frasers. What's more, when you donate 5 non-perishable* food items, you get to redeem S$2.50 Frasers Property Digital Gift Card and get a free Makan Master cooler bag which you can use for your grocery runs, outings or more!
The promotion runs from now till 30 April 2021. For more information, please visit https://www.frasersexperience.com/promotion_detail.php?c=584&desc=Promotions&p=65987&t=journey-towards-sustainability
*Non-perishable food items with at least a 4-week shelf life such as staples, beverages, condiments, canned food and dried/preserved food.
Run Green
ASICS has launched its most environmentally sustainable collection with its new Earth Day Pack, a collection of shoes made from recycled textiles. This planet-friendly collection has been created using a circular manufacturing approach that saw around 5 tons of textile waste, the equivalent of 25,000 T-shirts recycled into new shoes. At least 30% of the shoe's upper polyester is made from recycled materials, while the sock lining of the shoes are developed using a resource-saving technology called solution dyeing that reduces CO2 emissions by around 45% and cuts water use by around 33% compared to conventional dyeing processes.
As part of the Earth Day Pack, ASICS has created a sunflower icon symbolising the brand's commitment to preserving the planet for future generations. The Earth Day Pack includes many popular products from across ASICS running, court, and Sportstyle ranges, including GEL-NIMBUS™ 23, GLIDERIDE™ 2, GT 1000™ 10, GEL-RESOLUTION™ 8, TARTHER™ BLAST, GEL LYTE III OG™, and SKYCOURT™ shoes, as well as a wide range of clothing.
The Earth Day Pack will be on sale globally in-store and online from 15 April 2021 onwards.
---
Images: aquama® , Deliveroo, Envato, Impossible Foods, Fumbles & Jumbles via Eventbrite and Malls of Frasers Property