It's no secret that finding the perfect pair of jeans is nearly an impossible task. The first step in finding the right type of jeans is knowing your body type. Are you curvy, tall, petite or athletic? Most women tend to go to shops and try on all the random pants. That is a frustration recipe, thus we have a better solution. To save you the trouble from spending hours in a fitting room, we have listed down best jeans for every body types.
Petite
Tommy Hilfiger High Rise Wide Leg Crop Jeans-911-27
Being short has its perks, minor comfort on an airplane is one of them. However, shopping for clothes is not. Suitable jeans for petite women are wide leg cropped jeans. These jeans create elongated legs by showing off one's ankles. Do note that, there is a general guideline is to not wear anything less than 21cm. If you don't know what exactly your best length should be, one rule of thumb is to show as much skin as the width of your hands.
Curvy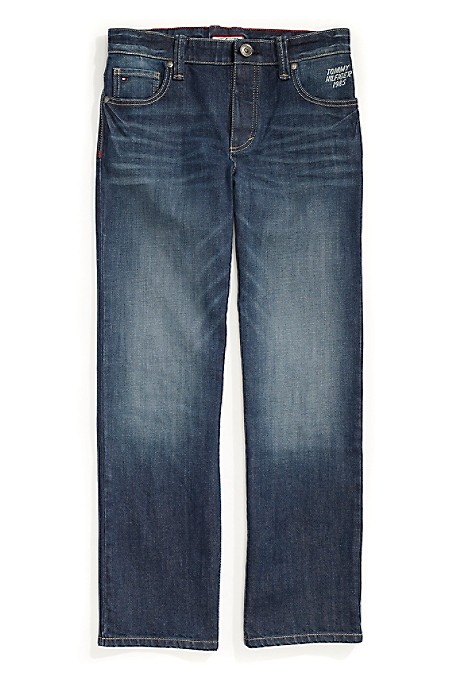 Tommy Hilfiger Relaxed Fit Jeans
If you are plus-sized, boyfriend jeans are the one for you. Shop for a more relaxed fit of boyfriend jeans that are made from soft, sturdy denim and cut to flow easily over your curves. Another tip is to look for a boyfriend style that features a higher rise in the back to provide coverage and help lift the look of your rear end in jeans.
Tall
If you are tall, finding jeans with ideal length can be difficult. They're either too short or too long, loose-fitting or too snug. The inseam of most standard-sized denim is around 32 inches – just long enough for a woman who stands, approximately, at 5'7″ (1.7m) without shoes. Anyone taller is left to contend with an awkward gap between the ankle and the foot, forced to only purchase styles that will work to look like "cropped jeans".
Straight leg jean is the ideal jeans for tall women, it even covers the top of your boots. Classic straight-leg jeans fall right at the ankle to solve the awkward gap between the ankle and foot.
Athletic
If you have an athletic body that's straight up and down, high-waisted jeans will create curves in a flash. It also accentuates one's athletic figure with muscular thighs as it has wider space compared to other cuts of jeans.
Use this guide to plan ahead before your next trip to get the best jeans for your body type!
If you liked this article, please support our book project "Building Body Confidence" by pledging an amount here. Every dollar goes into the publishing and distribution of the book and you will get a copy of it once it does get published!
---
Photo credits: Yahoo, Unsplash