Are you wondering what to do this long weekend besides going out to dine? Fret not. We've got you covered, whether you have children to keep occupied or you just want to go on a date with your other half. Check out our list below!
Appreciate art in a shopping centre
Hong Zhu An at The Art Passage
When you're shopping or dining at Raffles Shopping Centre, you can now experience an audio-guided art tour right inside! Curated by Ode To Art Gallery, The Art Passage aims to close the gap between art and its viewers by displaying art in a casual setting. Located on Level 3 of Raffles City (opposite Mikuni restaurant), viewers can enjoy the intimate and curated art session by scanning the QR codes along the exhibition to enjoy an enriched audio experience.
The Art Passage started on 1st April with a voice-guided tour featuring 66 year old local artist, Hong Zhu An, where 15 new artworks are on display till 31st May 2021. There will be a total of 8 artists – local and international, which will be on display according to the schedule below:
| Duration | Exhibition |
| --- | --- |
| 1st April – 31st May | Hong Zhu An at The Art Passage |
| 1st June – 31st July | Utopia(s): Knakorn and Vani Hidayatur Rahman |
| 1st August – 30th September | Lim Tze Peng at The Art Passage |
| 1st October – 30th November | Art in Motion: Patrick Hughes and Patrick Rubinstein |
| 1st December – 31st December | A Family Holiday: Coplu and Eva Armisen |
Make some toys for your child (or make them together!)
Depending on the age of your child, you can either make some Easter-themed toys for your child or make them together so that the kiddos are occupied as well as entertained while learning at the same time!
Singaporean mummy, Jasmine, not only gives you 1 idea but 15 activities! We love the 'Surprise Eggs' activity where your child uncover surprises in eggs that you can prepare beforehand.
Parents, you might even want to organise a playdate session so that all the children can get together and have fun. Time to get creative and get crafty!
Sonkran Water Fest at Downtown East
Since we still can't travel, instead of going to Thailand for Sonkran, Downtown East has brought Sonkran to us at their water themed park Wild Wild Wet (very appropriate). Expect water battles, so bring your water guns and get ready to be soaked!
Passes start from S$20/pax (weekdays).
Wild Wild Wet
Downtown East
1 Pasir Ris Close
Singapore 519599
Fill up your reading list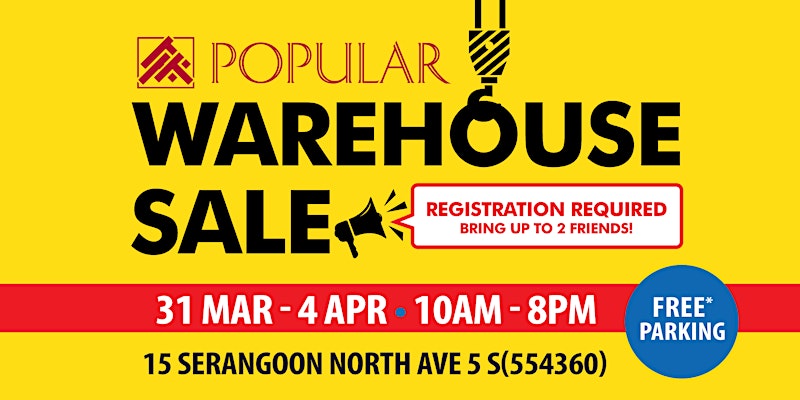 Popular bookstore is having it's warehouse sale where you only pay S$30 for all the books and selected music products that you can fit into a basket! There will be other great deals on stationery and assessment books too.
Registration is required and you can do so here.
Storytelling at the library
Besides getting physical books from the bookstore, the National Library often hold storytelling for children of all ages at various timings across all branches. This is a brilliant activity for your child to get excited about reading while entertaining them at the same time! For the full schedule, please click here. Do note that due to COVID-19 restrictions, registration is required via their Eventbrite page.
Volunteer at a charity
Since the spirit of Easter is about renewal and new life, why not give back to society and help the less fortunate? Charities such as Willing Hearts, require volunteers to help cook, pack and distribute meals to the poor. For more information or to register, please click here.
Tackle an escape room
This requires a team or family of 5 to play (with social distancing rules in place) but it will definitely be an activity that will put your cooperation and problem-solving skills to the test!
For various types of escape rooms, do visit http://www.lockdown.sg.
---
Images & Video: The Art Passage via Ode to Art Gallery, Downtown East via Facebook, Envato (featured image), JK Family via YouTube, Popular Bookstore via Eventbrite, Lockdown Singapore via Eventbrite