It's that time of the year where you want to surprise bae but you're seemingly running out of ideas. Don't worry, because we've come up with our annual list of gift ideas for Valentine's Day that can help you even plan out a special night with your partner. Most of our gift ideas work for all genders – just pick their likes! Moreover, a few of the items are up for grabs in our giveaway contest so do read on to find out more.
1. For those who love their drinks
If your partner is into whiskies but you're just starting to appreciate them (or not), it might be hard to choose a bottle for them. Moreover, part of the fun of drinking is exploring various types of whiskies and discovering different flavours. In this case, one ideal gift would be a whisky subscription by Heart and Spirits.
As Singapore's first premier whisky subscription service, you can sit back and let the experts pick unique bottles from around the globe for your special someone. Choose from a single bottle, 3, 6 or 12-month subscription (S$148-S$555; only available in Singapore). You and your loved one can sip a dram (or two) together and explore the interesting whiskies that the world has to offer.
To find out more, visit their website www.heartandspirits.com.
If whisky isn't your partner's drink of choice but wines, try looking for an interesting bottle at Vinomofo where the prices are reasonable and you can even email them to find the perfect match for you or your partner. They even have a collection of vegan wines!
To find out more, visit their website www.vinomofo.com.sg.
And…*ahem*…wouldn't it be nice to nurse a drink in front of the telly, and Netflix and chill? Just saying!
2. For those who need a massage ASAP
For those who regularly exercise, it wouldn't be a surprise if they also experience a lot of body aches and pains due to microscopic tears in the muscle fibres. Besides a day out in the spa, why not get them a longer term solution such as a massage gun? We love Hydragun (S$399) as we've tested it against a few others and it is quiet, most value for money and great for everyone of various pain thresholds.
It's not just us raving about Hydragun! Even local athletes have reviewed it and love it!
To find out more and to purchase, do visit them at www.hydragun.sg.
3. For the creature of comfort
Carrying on from 2020, the trend for 2021 is for the homebody (after all, a lot of us are still working from home) and we super love this Convertible Cushion Throw by Typo (AU$29.99) which can be unzipped to become a throw blanket or a cushion if you need one to hug or as a backrest. Great for the socially selective introverts. Comes in various colours and designs.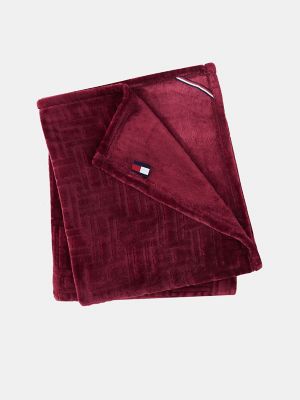 If you want to be a bit more luxe, then you may want to splurge on a Tommy Hilfiger Monogram Blanket (US$67) that works as a throw or a normal blanket for your bed. Comes in various sizes from Twin to King, and in Navy, Black, Cream or Red.
4. For those who love activities
Typo Modern Lisa 1000 piece puzzle (AU$10)
With people stuck at home and with visitation restrictions, why not plan a date night where you can spend some time fixing a puzzle together? You can choose from something pretty easy to fix (50 pieces) to something a bit more challenging (1000 pieces) and once you're done, you can even choose to frame it up as wall art!
If puzzles aren't your thing. Then get a simple card game such as Uno, so that you can enjoy and have a good laugh with your partner!
We envision doing a puzzle or playing a game, while wrapped up in a throw or blanket while sipping on a drink. Yes, blissful and comfy Valentine's Day!
5. For those who are always late
Smart watches and wearables are fun but if you want to really complete an outfit and make a timeless (pun intended) statement, a traditional watch is still the way to go. We like Tommy Hilfiger's watches for both him and her as they're both classic but still suitable to wear even with casual outfits. Moreover, they're quite affordable while fashionable!
Planning that special night
Now, if you really want to have that special night alone with your partner, here's a plan that you might want to follow. You're welcome in advance!
6. Start with your staycation
There are tons of hotels to choose from with a variety of interesting activities to enjoy during the day, ranging from a 2-hour motorcycle sidecar experience with PARKROYAL COLLECTION Pickering to a Yachtcation with SO/ Singapore where you can get a private yacht charter that includes BBQ and champagne breakfast, or at The Warehouse Hotel where guests staying over the Valentine's Day weekend will enjoy a pleasant surprise of cheeky amenities within their minibar of vices. Do remember to check whether these hotels are eligible for Singporediscover vouchers!
7. Relax with the right scent
Smells are known to invoke certain moods in people and therefore, why not set the mood right with some essential oils? We recommend LOVE by Mi Scents, a blend that evokes the frequency of Love, which is one of the 3 highest vibrational emotions together with Peace and Joy . It's created using Medical Intuition System protocols to capture the highest possible frequencies using a harmony of natural, globally sourced quality plant-based ingredients.
This Valentine's Day, receive a free pouch filled with mini 2ml LOVE, JOY and PEACE worth S$14.95 with every purchase of LOVE 15ml (S$37). After all, who wouldn't want to receive a gift that's called LOVE?
Stand the chance to win a bottle of LOVE! Details can be found at the end of this article.
To find out more and to purchase, do visit them at https://miscents.com/ 
8. Set the mood with music
After you've turned down the lights and closed the door, it's time to amp up the romance by playing some soft and suitable music. Don't forget to set up your playlist before the staycation with ballads or slow R&B songs to play on a portable wireless speaker.
Well, even if you're not intending to use it for that romantic night, a wireless speaker will definitely be appreciated by those who are music lovers.
9. Spice things up with toys for him
Who said that vibrators were only for women? LOVENSE has an app-controlled Prostate Massager (S$169.90) that opens up a world of possibilities in the bedroom! It is bluetooth enabled and has an adjustable head ensures that it hits the right spot for most men. Dual vibrators stimulates both the prostate and perineum, with optimised neck to enable handsfree fun.
The free app gives you or your partner control over the entire range of power levels – whether you crave light or strong vibes, you will always find that sweet spot. Decide how you want it have it played out – solo play, fore play and even discreet public play.
Stand the chance to win the LOVENSE Edge Prostate Massager! Details can be found below and this is only for those aged 18 and above.
To find out more or to purchase, do visit horny.sg.
10. Have a bit of fun with toys for her
If we had toys for the men, we can't leave out the women now, can we? Meet LOVENSE Ferri (S$179). It's tiny, versatile and powerful!
It is low profile, quiet and therefore, perfect for public play.
This is a remote controlled panty vibrator targeted for powerful clitorial stimulation and is extra small and light (only 235g). It can be comfortably used with any type of underwear, and the strong magnet will provide stability and guarantee that it will stay on the right spot regardless of your position.
As with all LOVENSE's toys, Ferri can be connected to the app and controlled by your partner, which makes it perfect for discreet fun in public or long distance relationships (no matter how far away you are from each other). In addition, Ferri comes with the next gen Bluetooth 5.0 Chip to ensure that you have the best app-controlled experience out of any panty vibrator available today.
Stand the chance to win the LOVENSE Ferri! Details can be found below and this is only for those aged 18 and above.
To find out more or to purchase, do visit Pink Lifestyle either at their website or in store at Shaw Lido, L2. For online orders, use promo code PINKMELISSA to get 15% discount. No minimum purchase amount required.
Giveaway contest!
We have one Mi Scents LOVE, one LOVENSE Edge Prostate Massager and one LOVENSE Ferri to giveaway! All you have to do is simply complete the form below.
---
Images: EAMART, Hearts and Spirits, Horny.sg, Hydragun, Mi Scents, Pink Lifestyle, Tommy Hilfiger, Typo, Vinomofo