There is an increasing trend in wearing athleisure wear on an everyday basis and with 84% of Singaporeans exercising at least once a week (according to Virgin Active's Singapore Fitness Trends Study 2022¹), it is also no surprise that more brands are introducing an activewear range or more athleisure brands are increasing their presence in Singapore.
One such brand is the British activewear brand Sweaty Betty, which just opened its second store in Cluny Court in October this year. And in celebration, they invited media down to their new store to join the special Tabata workout decked out in one's choice of power leggings and top. While yours truly couldn't attend the Tabata workout, I did get a set of leggings, sports bra as well as a top and put them through a few tests in order to give you an honest review.
Sweaty Betty's Power Leggings
Sweaty Betty is known for their power leggings, which was launched by their founder Tamara in 1998. When you first touch them, you will really love the soft buttery feel of every pair of leggings. Secondly, you will love the range of colours and design that will appeal to those who like their activewear fun and flirty, to those who prefer something more bold as well as those who just prefer simple and understated designs.
Practical me loves the fact that some of their biker shorts as well as leggings have a side pocket which is large enough to fit your smartphone (yes, even those larger sized iPhone Pro Maxes) snugly and they really do not shift or fall out when moving around. This has been stress-tested when I raised my legs and placed them against the wall.
What further impressed me was how the leggings really lifted the bum and there was a bit of compression as well! So those who'd like a bit of posterior lift, you might want to consider a pair just on that point alone. The compression feature is also great for those who are truly active as it'll help with blood circulation and minimise muscle fatigue.
But of course, another hallmark of a good pair of leggings (in my opinion) has to be the wicking effect. So I wore the leggings for a 20-minute walk, followed by a yoga class and continued with another 20-minute walk home. The walk alone would normally ensure that I'm dripping with perspiration and I must say that Sweaty Betty's leggings really do wick perspiration off so that you do not turn into an actual sweaty Betty. However, unlike my Under Armour leggings, the wicking does not leave your skin feeling cooler but it doesn't make you feel warmer either. This is probably due to the compression element of the leggings but most important is that because you don't feel like you are dripping in sweat, you naturally feel less icky and happy to be running along to the next errand.
If you're ever in-store, do ask the Sales Assistant(s) to introduce you to the Power High-Waisted Leggings as some people will call it an instant tummy tuck leggings. Tried a pair and it does take a bit of easing into them…and you'll be slightly sceptical whether it'll go past your hips when you're putting them on…but soldier on and you'll see what I mean. More comfortable than a corset, more flattering than high-waisted jeans and definitely a lot more movement allowed than the previously mentioned two.
Sports Bras
| | |
| --- | --- |
| Super Soft Workout Bra | Mindful Seamless Yoga Bra |
I've mentioned in a previous sports bra review on how many brands tend to focus only on support when it comes to sports bras but neglect other aspects when it comes to comfort and wearability. Sweaty Betty's Autumn/Winter 2022 collection saw the introduction of the Power medium Impact Bra – Ignite, which has contour seam lines with adjustable T-bar strap.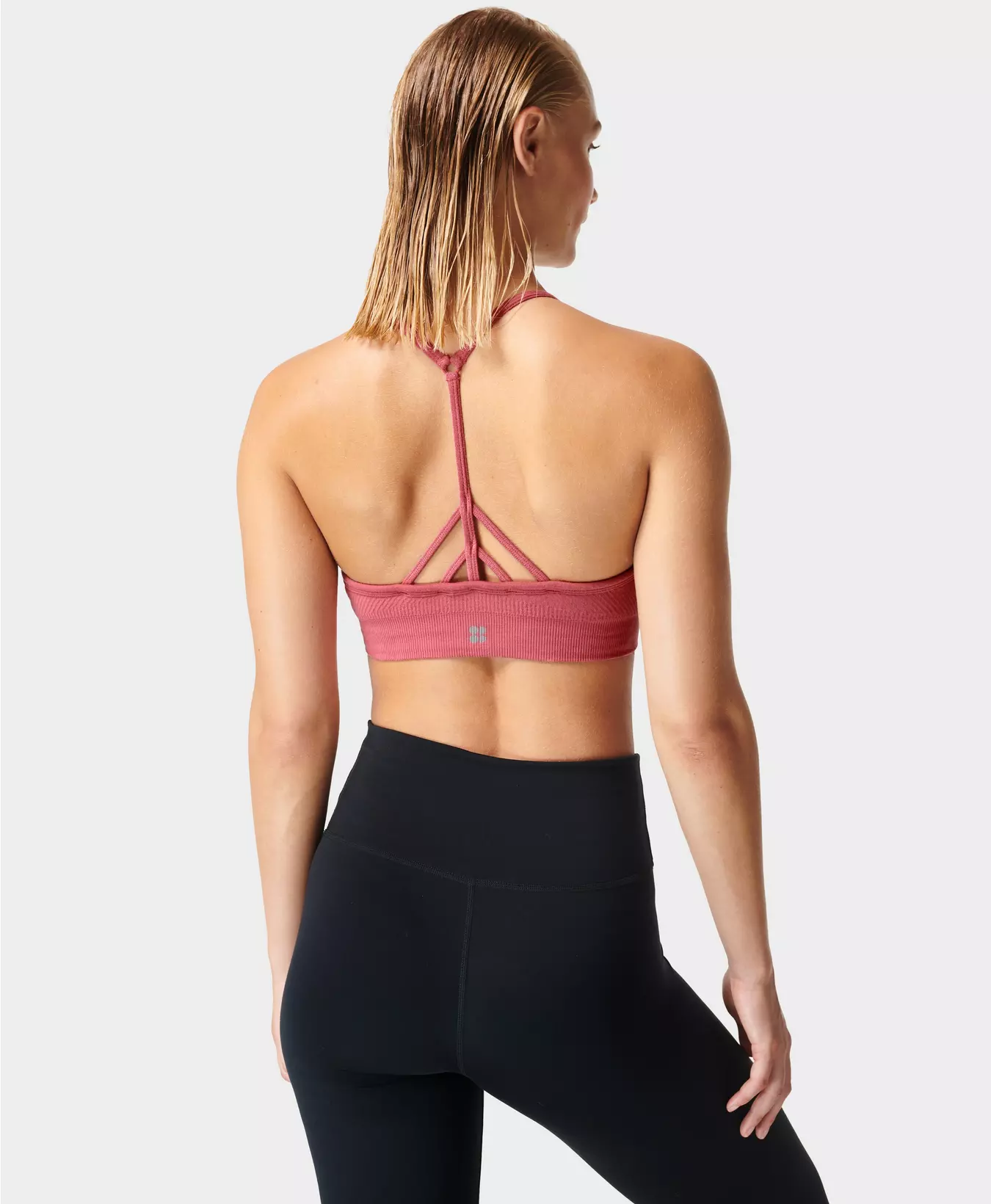 Tried on a few different types of their sports bra and while most of them are very stretchy, it wasn't as comfortable to put on and take off compared to my lululemon experience. Nonetheless, the fabrics were all very soft and buttery, very much like their leggings. With one particular range as an exception – the Mindful Seamless Yoga Bra.
What I chose in the end was the Mindful Seamless Yoga Bra because it was just so interesting in terms of fabric choice. On first look, it seems as if the bra is made of jersey material and it is as soft as cotton. It looks like a bralette masquerading as a sports bra due to its fit and thin strappy back.
Nonetheless, love that it comes in a variety of colours and is made with sustainable modal Lenzing™. Comes with removable inner pads as well. Once worn, it does feel like a comfy tube top is being worn rather than a bra. No contorting required to take it off either!
Although it is supposed to be for light support (ie. not meant for running or high intensity workouts), the support was effortless and amazingly good! Honestly, I forgot that I was wearing a bra throughout the whole entire time and despite all the bending and twisting during yoga, there was zero slippage. After experiencing such support for the girls, I think Sweaty Betty bras have set a new benchmark on what support really means.
The Tops
Sweaty Betty also has a lifestyle collection that is both feminine and understated. With a variety of hoodies, jackets and simple tops, you'll definitely be able to find something that suits your needs.
Choosing one can be a bit tough because every item of clothing is comfortable, soft and looks really good when worn. But a choice still has to be made and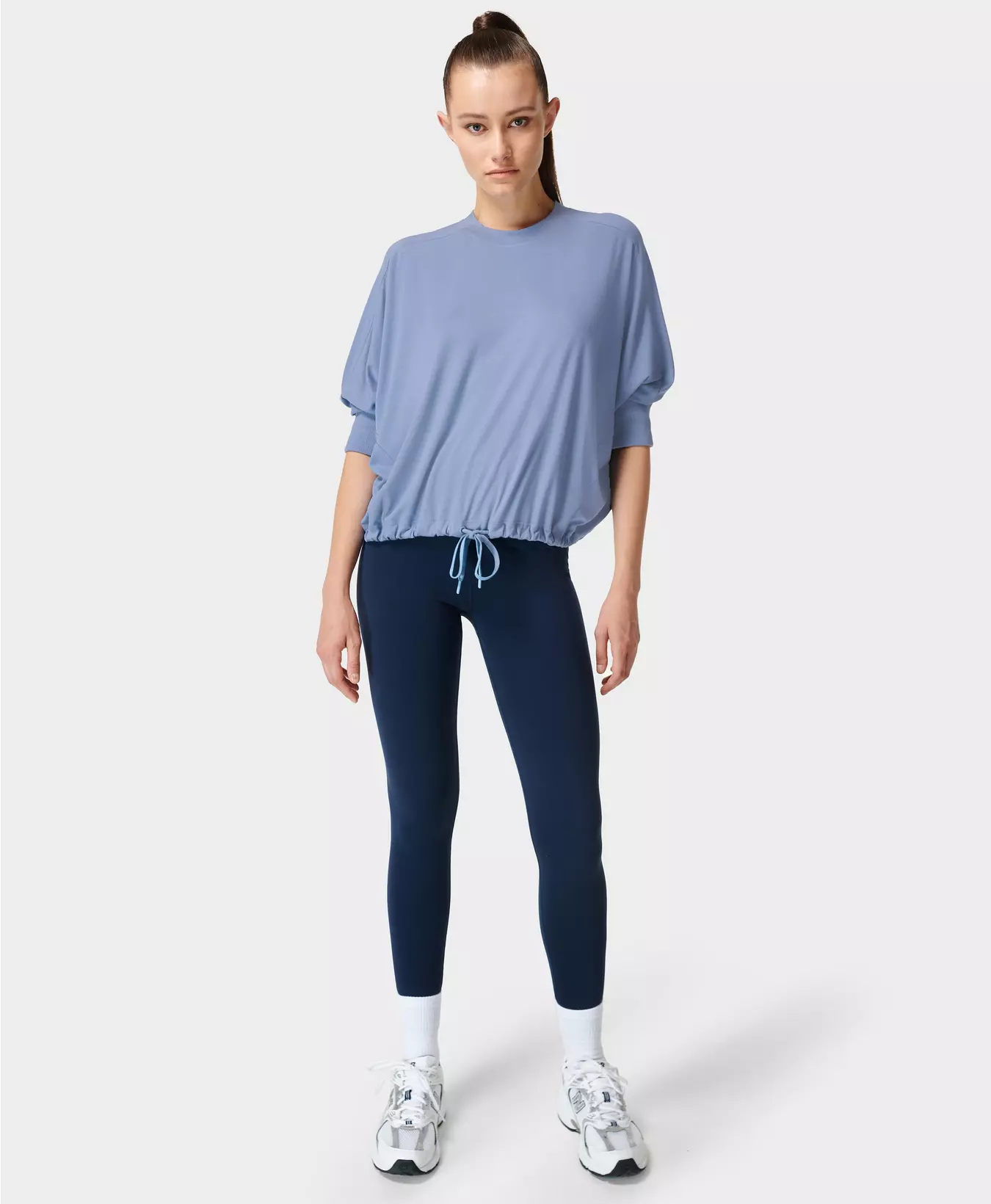 I chose to get this Tori Drawstring Top in grey because of a variety of practical reasons. Although I loved some of their hoodies, the fact that some were made with fleece meant that it was too warm for frequent use in Singapore, so I looked for something a little more versatile.
This Drawstring Top is very very comfortable and I can't begin to describe the fabric feel. Because it is made with a spandex blend, it is a bit stretchy but it drapes on your body so it feels flowy as it moves with you. Great as a post-workout top to prevent yourself from catching a cold if you're the kind who enjoys working out in only a sports bra and bottoms.
It surprisingly did help to keep me warm when I wore this in Korea in 20°C weather but it was not super hot to wear this out in Singapore. This is definitely NOT a workout top unless you intend to run in it during winter.
Stacking up against the competition
Overall, Sweaty Betty does set themselves apart from all the other activewear brands by delivering value in terms of understated modern design with luxurious fabrics that are both comfortable and practical.
Love the brand's ethos of support, inspiration and empowerment while emphasising the importance of community, which is why the brand offers free in-store community classes such as strength body exercises, yoga, meditation, and singing bowl therapy.
I am actually quite surprised that Sweaty Betty doesn't yet have a strong cult following globally…or maybe there is and I'm just clueless about it. But I'm definitely adding it to my favourites list and can't wait to try out more of their products!
Sweaty Betty Singapore
2 Orchard Turn, #03-01 ION Orchard, Singapore 238801
501 Bukit Timah Road, #02-13 Cluny Court, Singapore 259760
Website: www.sweatybetty.com
---
¹The research for the Singapore Fitness Trends Study 2022 was conducted in partnership with data analytics and brand consulting company Kantar Group in March 2022
Images: Sweaty Betty